I
It's a significant accomplishment for a breeding farm to have one Breeders' Cup contender running on Championship weekend, but this year, Mulholland Springs will be represented by no fewer than three runners that were born and raised on the soil of its Lexington farm. First established in Oklahoma in 1979 as a western pleasure empire, John Sr. and Martha Mulholland eventually entered the Thoroughbred game, where their Remington Park claiming horses soon transformed into Kentucky blue bloods. Purchasing their current property, off Ironworks Pike, in 2001, the family farm is enjoying its most successful year yet thanks to undefeated juvenile and likely FanDuel Breeders' Cup Juvenile Presented by Thoroughbred Aftercare Alliance (G1) favorite Cave Rock , grade 1 winner and NetJets Breeders' Cup Juvenile Fillies (G1) contestant And Tell Me Nolies , as well as returning Qatar Racing Breeders' Cup Sprint (G1) contender Manny Wah , the upset winner of Keeneland's Stoll Keenon Ogden Phoenix Stakes (G2) and a horse that holds a special place in the heart of his breeder, Martha.
John Jr., the General Manager of Mulholland Springs spoke with BloodHorse MarketWatch about his trailblazing mother, his affinity for the late stallion Arrogate , and the "troublesome" foals that were Cave Rock and And Tell Me Nolies.
MarketWatch: How does it feel to have three legit Breeders' Cup contenders all born from your family's farm?
John Mulholland: It really is a wonderful, gratifying feeling and a real sense of accomplishment. It's a reassurance of everything that you're doing—all of the hard work, everything that you put into it. It's that affirmation that you're doing something right. I'm beyond thrilled win, lose, or draw. We're just going to enjoy the experience. I'm happy for the guys at the farm. All the people that have worked for us for so many years. They're all very excited.
MW: And according to my research, one of these could be the first Breeders' Cup winner to be born and raised at Mulholland Springs.
JM: That's right, it will be the first one born on our farm to win. And this is the first time we've had three entered in 40 years of the Breeders' Cup that were born here and raised here. I suspect it'll be another 40-50 years before it happens to us again.
We raced Malibu Mint years ago but this was before they had the (Breeders' Cup) Filly and Mare Sprint (G1) so she had to run against the boys. She ran admirably but wasn't quite up to it (she finished 12th in the 2006 Sprint). Then we had another colt that we bred, Wine Police run in the Sprint (he finished 8th in 2013). I do think Manny (Wah) two years ago had a big shot but perhaps the jockey went zig and he should have zagged or he might've won that day. But I'm glad he's back again. He's up against it big time but he's a wonderful horse and hopefully he gets a good clean trip and comes flying at the end.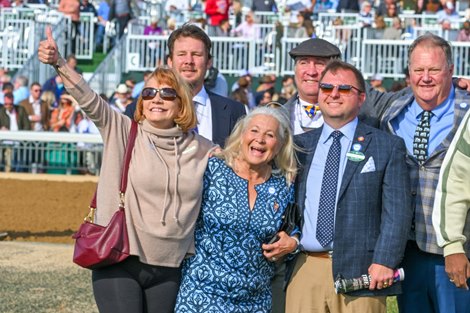 MW: You and your mother are pretty active players in the sales scene, do you ever keep any to race for yourselves or are you strictly breed to sell?
JM: Our end goal is to sell either as a foal or as a yearling. The only ones we have racing are the half sister to Manny Wah and a full brother to Maximus Mischief who we have in partnership with L and N Racing as well. We did keep a Violence yearling back too. The selling, though, keeps the farm rolling and that's what we aim to do, always.
MW: Are you and your mother pretty hands-on at the farm?
JM: Yes, it's just us and our help. It's no knock on those other farms that have the different layers of management. We do have an office manager, Sarah, and a farm manager Jesus Morales, who's been with us for many, many years. We foal close to a hundred babies every year and she is there for every single foaling. No matter what. She's in her 70's now and whether it's an Into Mischief baby or a $5,000 stud fee she's there. She wants to see it come alive and make sure both the mother and baby are doing well and then she'll retire back to bed. Three feet of snow or an ice storm she's there. It's just us and we try to be as hands-on as we can. We try to look at as many horses every day as we can.
MW: She sounds like an incredible woman.
JM: A lot of the women in the business can appreciate what my mother has done and even the women before her like Alice Chandler and Josephine Abercrombie and Helen Alexander, there's probably not a better breeder in the industry than Helen. Women like Helen and my mom have blazed the path for a lot of women today in the industry. When my mom started going to the sales you wouldn't have found many women at the sales at all as an independent farm owner or breeder. They would've just been the wife. I wish she got this sort of recognition every year. After my father's passing, she has taken the reins of the farm and she'll want to give me a lot of credit but I want to give her all the credit. She deserves this. It's a lifetime of work for her.
MW: I'm sure since you guys bred Breeders' Cup Sprint contender Manny Wah specifically, you've been closely following him throughout his career. Now he's 6 years old and looks like he's hit his top stride, what's that mean to you and your mom?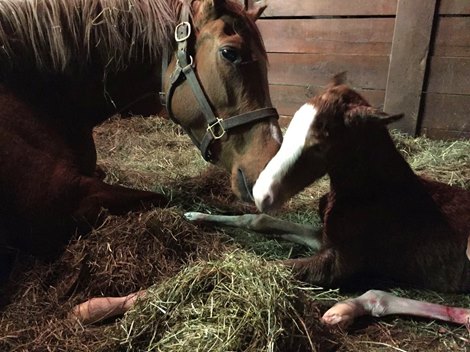 JM: My mother bred Manny Wah in partnership with Dr. Arnaldo-Monge. He used to do a lot of our reproductive work over at Hagyard. He's a wonderful vet. He took a little piece of the mare (Battlefield Angel) years ago.
But yes, I talk to (trainer) Wayne (Catalano) all the time. Especially early in his career just about every time he breezed I asked how he was doing.
MW: Is Manny Wah's dam, Battlefield Angel , at the farm? I see you guys actually raced her as well. Do you have her most recent offspring?
JM: We bought her from Eclipse Thoroughbreds. She was trained by Wayne Catalano as well. She came out of the Darley Alcibiades (Stakes) (G1) with a chip and that was around the time we bought her privately from them. We had some success with her thanks in part to Dr. West Sutter. He helped us rehab her and we got her back to the track with trainer Kellyn Gorder, who did a masterful job with her. We won a stakes at Delaware Park and a couple allowance races before she joined the broodmare band with us.
Unfortunately, we lost her. She colicked on us a couple of times and couldn't be saved but we own some of the family still. We've kept her last foal, a 2-year-old filly by Justify (Just an Angel). She ran a nice second first time out at Churchill Downs.
She ended up getting a big cut on her shoulder while training at Saratoga and had to come home to the farm for a while. We're racing her in partnership with the guys from L and N Racing. I'm looking forward to getting her back (on the track).
MW: What was Manny Wah like as a young horse at the farm?
JM: He was a wonderful foal to raise. A sweetheart. He had a lot of personality. He hasn't been a surprise at all, I always thought he was a very athletic, forward-moving horse. He's got a great stride on him, he's very balanced. Very attractive horse. I'm really happy for Wayne and Susan Moulton.
MW: He's a speedy horse considering he's sired by Travers Stakes (G1) winner Will Take Charge .
JM: He took a lot from the mare. The mare had some good turn of foot to her. She could sprint and had a lot of natural speed about her. He's not a real big horse, probably a 15.3hh kind of horse but he's a very efficient mover. If you watch him he's got a real nice action about him, there's none of that knee-climbing sort of action at all.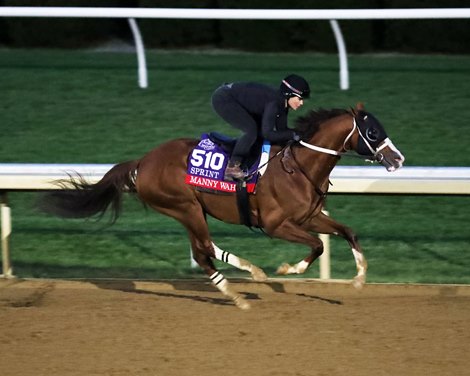 MW: Did you happen to see the tweet that was posted with the singer carrying on a tune in Wayne's barn featuring Manny Wah?
JM: Yes, I saw that. I've been in and out of Wayne's barn many times and I had never seen that before. But that was a cute thing he sent out. I do know that classical music is very soothing to horses though. We actually play classical music to the mares when they're in their stalls during breeding season.
MW: Now, moving onto the 2-year-olds, Cave Rock in the Juvenile and And Tell Me Nolies in the Juvenile Fillies. I know you and your mother were pivotal in the decision to send both of the mares (Georgie's Angel and Be Fair ) to Arrogate, what went behind that decision? Why Arrogate?
JM: My mom and I give all of our ideas on what we think (about mating suggestions) to the clients. We always go look at all the stallions. Though ultimately in the end we left that decision up to the clients.
I have a very high opinion of Arrogate and not only did Cave Rock and And Tell Me Nolies come off our barn but our very next door neighbor, Briland Farm, was where (Longines Kentucky Oaks, G1 winner) Secret Oath was born. So in my opinion all of the best of Arrogates have come off of Ironworks Pike in Lexington.
It's a real shame. You're just starting to see what the horse could produce. It's a shame when we lose a stallion like that because there's no telling what else he could have produced and what his daughters could have produced. I am a big fan of Arrogate. I've had several on the farm and I thought they were all very attractive foals, good sized and probably have a bit more bone and more body than you'd typically get from Unbridled's Song. Any time a stud goes that early it's not good for us breeders.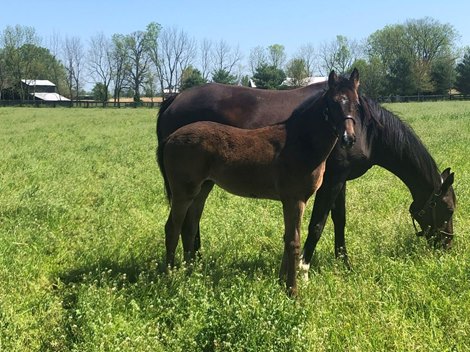 MW: What can you recall about Cave Rock and And Tell Me Nolies as young horses at the farm?
JM: They both never gave us any trouble. They never got sick, never had to wear a bandage. Those ones make it easy on you. They were both easy to raise and easy to handle. They were easy to take to the sale and showed well. The ones you really remember are the ones who give you all the trouble. But they were both quiet, calm, intelligent horses. I wish they were all like that, honestly.
MW: Considering Cave Rock's distance-oriented breeding, have you been surprised at his early success?
JM: I am surprised at how precocious the colt is. I didn't think a baby by Arrogate out of a Bellamy Road mare would be that precocious but here we are. I do remember seeing him in the paddock and thinking 'boy that's a nice-looking foal'. He was always a very striking individual.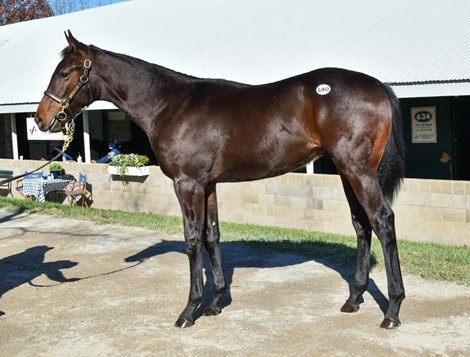 MW: He brought a nice number, selling for $220,000 at the 2020 Keeneland November Sale for your consignment. Were you surprised at that figure?
JM: At the time, with both (Cave Rock and And Tell Me Nolies) people were unsure about Arrogate—is he going to produce precocious horses, is he going to have early 2-year-olds? It was a little bit of a difficult time to sell. And Ron and Annie (Sheffer) had decided to sell all of their horses, even the mare. As a commercial breeder, it's a difficult time to sell a foal in that bubble year in not knowing if a stallion is going to produce. With the first crop everyone's excited but then the second, third year it's a waiting game to see how they're going to run.
MW: And Tell Me Nolies sold for $70,000 in the 2021 Keeneland January Sale. Was she a little slower to develop than Cave Rock?
JM: No, it just seemed like the best spot to put her in. The mare, while a nice runner herself, just hadn't thrown anything significant at that time. She hadn't produced any black-type runners yet and Arrogate was still on the bubble. She's a very lovely filly but she had that going against her. I think it was a sharp buy for the people who bought her and obviously, she went on to sell well at the 2-year-old sales (bringing $230,000 at the OBS April Sale).